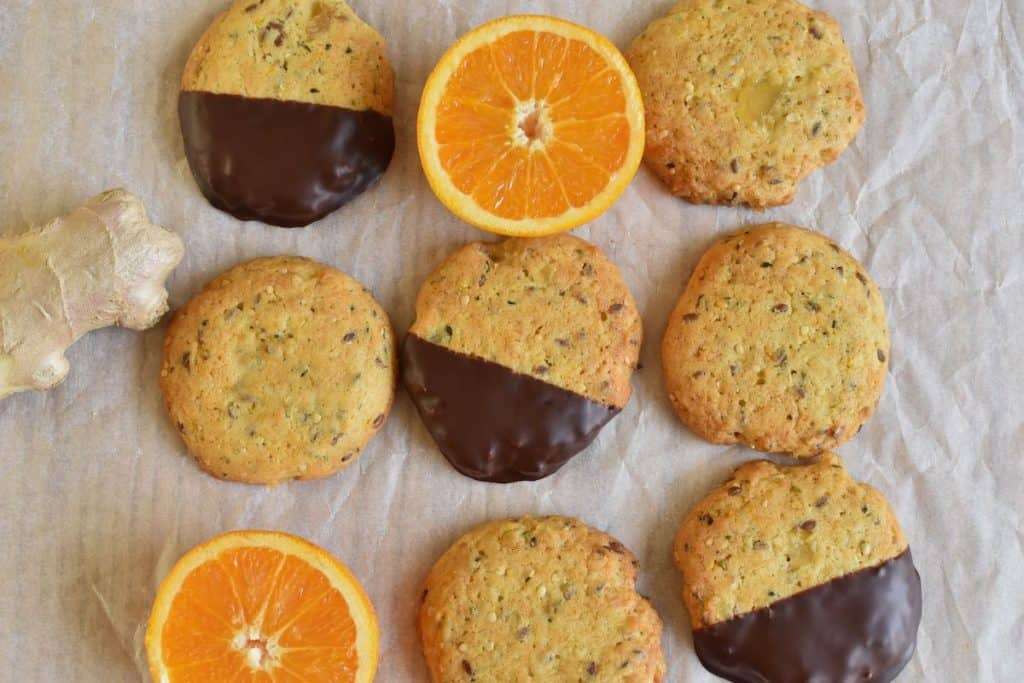 Vegan koekjes = altijd een goed idee!
Wanneer is vegan koekjes bakken een goed idee? Als je je verveelt, zin hebt in iets zoets, iets leuks wilt doen met de kinderen, gasten te eten krijgt, of als je iets zoets wilt serveren bij de koffie of thee. Vegan koekjes zijn gewoon altijd een goed idee! En dat vegan koekjes wil bakken, betekent niet dat je inlevert op smaak. Kijk maar eens naar de sinaasappel-gember veganistische koekjes hieronder. Die zien er geweldig uit toch? Ze zijn al heerlijk zonder chocolade, maar na een dip in getempereerde chocolade worden ze pas echt een traktatie. Hier maak je je gasten vast heel blij mee! En jezelf natuurlijk ook.
Als je de smaak van vegan bakken te pakken hebt gekregen, is de Masterclass Vegan Patisserie misschien iets voor jou. In deze Masterclass leer je alles over vegan bakken met meer dan 30 recepten, en lessen over de werking en functies van de belangrijkste ingrediënten. Met deze kennis zal alles wat je bakt beter zijn, en bovendien leer om je eigen recepten te maken en te perfectioneren. Neem een kijkje bij de Masterclass en de introductievideo. Misschien begin je wel direct met de cursus en word jij ook een pro in vegan bakken.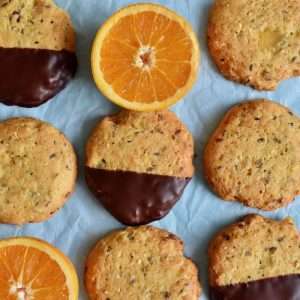 Orange-ginger cookie
A surprising and spicy cookie!
Equipment
baking tray

sheet of baking paper

ice cream scoop or two table spoons
Ingrediënten
20

g

ground chia seed or flaxseed

50

g

orange juice

3 tbsp

20

g

hulled hemp seeds

can be replaced by sesame seeds or finely chopped nuts

250

g

flour

2

g

baking soda

2

g

salt

160

g

butter

1

orange, the zest

100

g

granulated sugar

100

g

stem ginger shavings in syrup

1

tl

grated fresh ginger
For optional chocolate coating
200

g

dark chocolate, melted and tempered
Instructies
Preheat the oven to 190 °C conventional or 170 °C convection oven.

Mix the ground chia- or flaxseed and hemp seeds with the orange juice and let stand for 10 minutes to swell. This is your chia or flax egg

20 g ground chia seed or flaxseed,

50 g orange juice,

20 g hulled hemp seeds

Sift the flour and baking soda over a bowl and mix well.

250 g flour,

2 g baking soda,

2 g salt

Melt the butter on low heat or in the microwave.

Transfer the melted butter to a bowl and add the stem shavings, the grated ginger, granulated sugar, the chia or flax egg and the grated orange zest and stir well.

20 g ground chia seed or flaxseed,

50 g orange juice,

20 g hulled hemp seeds,

1 orange, the zest,

100 g stem ginger shavings in syrup,

1 tl grated fresh ginger,

100 g granulated sugar

Stir or mix for 1 minute and then let it rest for 5 minutes. Then stir 1 more time.

Add the flour mixture and the butter mixture together and work everything through to a thick batter.

Using a small ice cream scoop or two tablespoons, scoop the batter into half balls on two baking trays lined with baking paper. Using the back of a wetted spoon, press the dough slightly flat. You can also roll the batter in plastic wrap into a sausage shape with a diameter of about 3 cm and put it in the refrigerator for an hour. Then you can cut the dough into 2 cm. slices and place them on the baking sheets.

Bake the cookies in the center of the oven, one plate at a time, for 10-14 minutes (unless you have a professional oven, then you can bake more at a time) until crispy on the outside and soft on the inside. Let the cookies cool and store in a cookie jar. For an extra finishing touch, dip them halfway in melted & tempered pure chocolate and let the chocolate set 30 minutes before storing (or eating) the cookies.

200 g dark chocolate, melted and tempered
Notities
Mixing the batter in intervals gives the sugar more of a chance to dissolve in the water of your chia or flax egg. This will make your cookie crispier.
Baking soda, unlike baking powder, always needs an acid to react with. In this recipe, the acid comes from the orange juice.
You can also store the dough rolled into a roll in plastic in the freezer. To use, place the dough roll in the refrigerator for about, 40 minutes and you can cut slices from it and bake fresh cookies.
Voedingswaarde
Serving:
50
g
Calories:
222.9
kcal
Carbohydrates:
27.7
g
Protein:
2.8
g
Fat:
12
g
Saturated Fat:
3.8
g
Polyunsaturated Fat:
2.7
g
Monounsaturated Fat:
4.9
g
Trans Fat:
0.1
g
Sodium:
160.5
mg
Potassium:
60.6
mg
Fiber:
1.4
g
Sugar:
15.8
g
Vitamin A:
330.3
IU
Vitamin C:
1.5
mg
Calcium:
16.4
mg
Iron:
0.7
mg