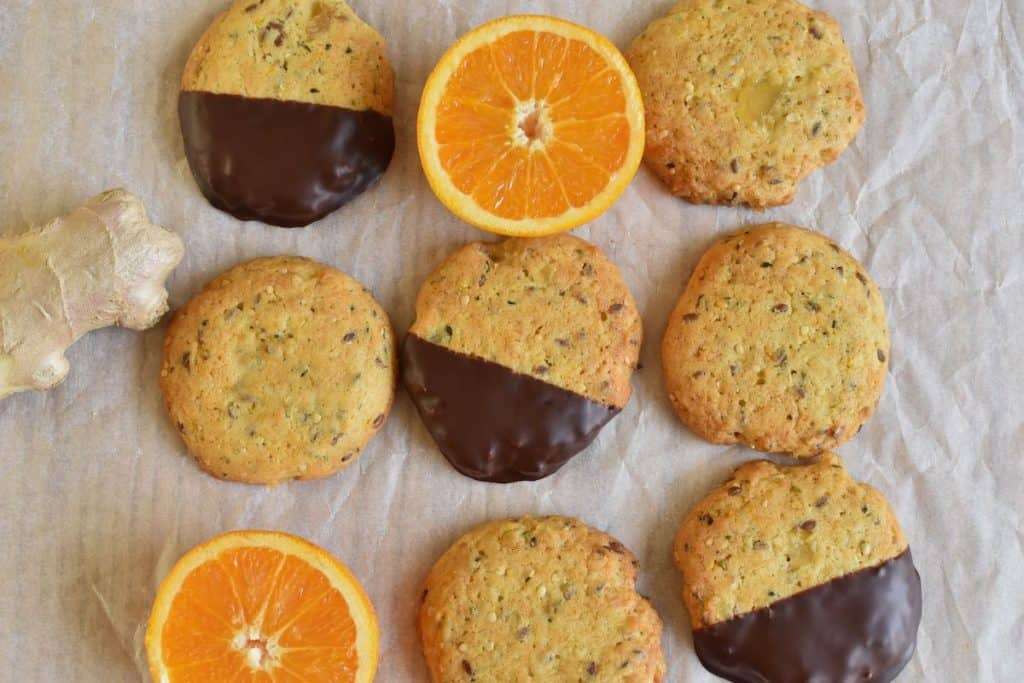 Vegan cookies = always a good idea!
When is vegan cookie baking a good idea? When you're feeling bored, in the mood for something sweet, want to do something fun with the kids, have guests over for dinner, or if you want to serve something sweet with your coffee or tea. Vegan cookies are just always a good idea! And just because you want to bake vegan cookies doesn't have to mean you compromise on taste. Just take a look at the Orange-Ginger vegan cookies below. Those look excellent right? They are already great without chocolate, but after a dip in tempered chocolate, they really become a treat. You are sure to make your guests very happy with these! And yourself too, of course.
If you've acquired a taste for vegan baking, the Masterclass Vegan Pastry might be just the thing for you. In this Masterclass, you'll learn all about vegan baking with over 30 recipes, and lessons on the workings and functions of key ingredients. With this knowledge, everything you bake will be better, and you will also learn to create and perfect your own recipes. Just take a look at the course and the introductory video. You might start your course & become a pro in vegan baking right away.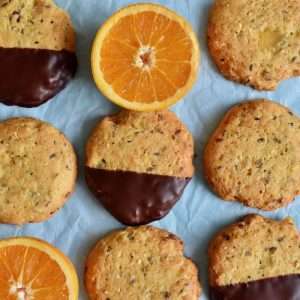 Orange-ginger cookie
A surprising and spicy cookie!
Equipment
baking tray

sheet of baking paper

ice cream scoop or two table spoons
Ingredients
20

g

ground chia seed or flaxseed

50

g

orange juice

3 tbsp

20

g

hulled hemp seeds

can be replaced by sesame seeds or finely chopped nuts

250

g

flour

2

g

baking soda

2

g

salt

160

g

butter

1

orange, the zest

100

g

granulated sugar

100

g

stem ginger shavings in syrup

1

tl

grated fresh ginger
For optional chocolate coating
200

g

dark chocolate, melted and tempered
Instructions
Preheat the oven to 190 °C conventional or 170 °C convection oven.

Mix the ground chia- or flaxseed and hemp seeds with the orange juice and let stand for 10 minutes to swell. This is your chia or flax egg

20 g ground chia seed or flaxseed,

50 g orange juice,

20 g hulled hemp seeds

Sift the flour and baking soda over a bowl and mix well.

250 g flour,

2 g baking soda,

2 g salt

Melt the butter on low heat or in the microwave.

Transfer the melted butter to a bowl and add the stem shavings, the grated ginger, granulated sugar, the chia or flax egg and the grated orange zest and stir well.

20 g ground chia seed or flaxseed,

50 g orange juice,

20 g hulled hemp seeds,

1 orange, the zest,

100 g stem ginger shavings in syrup,

1 tl grated fresh ginger,

100 g granulated sugar

Stir or mix for 1 minute and then let it rest for 5 minutes. Then stir 1 more time.

Add the flour mixture and the butter mixture together and work everything through to a thick batter.

Using a small ice cream scoop or two tablespoons, scoop the batter into half balls on two baking trays lined with baking paper. Using the back of a wetted spoon, press the dough slightly flat. You can also roll the batter in plastic wrap into a sausage shape with a diameter of about 3 cm and put it in the refrigerator for an hour. Then you can cut the dough into 2 cm. slices and place them on the baking sheets.

Bake the cookies in the center of the oven, one plate at a time, for 10-14 minutes (unless you have a professional oven, then you can bake more at a time) until crispy on the outside and soft on the inside. Let the cookies cool and store in a cookie jar. For an extra finishing touch, dip them halfway in melted & tempered pure chocolate and let the chocolate set 30 minutes before storing (or eating) the cookies.

200 g dark chocolate, melted and tempered
Notes
Mixing the batter in intervals gives the sugar more of a chance to dissolve in the water of your chia or flax egg. This will make your cookie crispier.
Baking soda, unlike baking powder, always needs an acid to react with. In this recipe, the acid comes from the orange juice.
You can also store the dough rolled into a roll in plastic in the freezer. To use, place the dough roll in the refrigerator for about, 40 minutes and you can cut slices from it and bake fresh cookies.
Nutrition
Serving:
50
g
Calories:
222.9
kcal
Carbohydrates:
27.7
g
Protein:
2.8
g
Fat:
12
g
Saturated Fat:
3.8
g
Polyunsaturated Fat:
2.7
g
Monounsaturated Fat:
4.9
g
Trans Fat:
0.1
g
Sodium:
160.5
mg
Potassium:
60.6
mg
Fiber:
1.4
g
Sugar:
15.8
g
Vitamin A:
330.3
IU
Vitamin C:
1.5
mg
Calcium:
16.4
mg
Iron:
0.7
mg