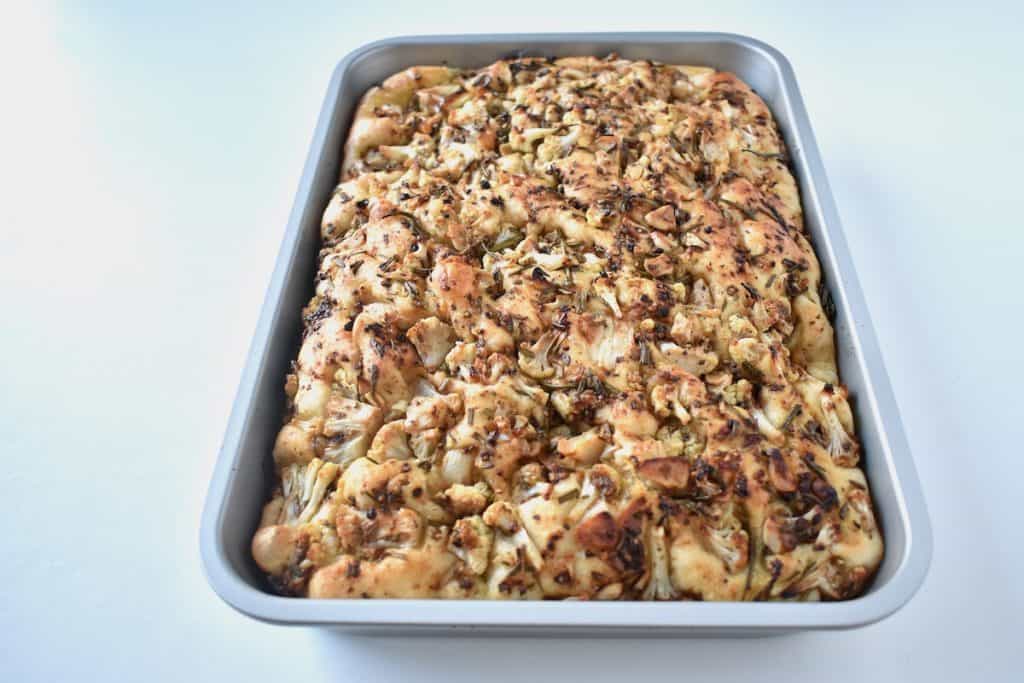 Vegan miso & cauliflower focaccia
Vegan focaccia is 100% comfort food. The combination of fluffy, soft bread combined with a super savoury topping is hugely pleasing to the senses. Focaccia is also pretty easy to make, especially if you know the pro-tricks that turns ordinary "nice" bread into "oh wow, this is super tasty" bread.
Then what are these tricks?
the right type of flour
sufficient kneading
the right dough temperature
proofing at the right temperature
The right type of flour
If you get serious about baking, you will discover that there are different types of flour for different types of bakes. In this case of vegan focaccia, it is wheat flour which is used. Wheat is the most widely used grain for bread and pastries worldwide. Due to the presence of the gluten forming proteins in wheat, dough made from wheat has good elasticity which helps to retain air in it. However, there can be considerable differences in the amount of gluten in wheat. This is mainly due to the amount of sunshine the wheat grains get while growing. There is also such a thing as durum wheat, but we will leave that out of consideration here as durum wheat is mainly used for pasta.
So for good bread we prefer to use wheat flour with a high protein content. The ordinary flour you find in the supermarket usually has a protein content of 9-10%. This is suitable for biscuits and cakes, but not really for bread. For bread we need a flour with more than 12% protein content and preferably with 13 – 14% protein. This flour is sold under various names: T-65 flour (French), Tipo 00 (Italian), Type 550 (German) or as patent flour. Sometimes a supermarket also sells something like "bread flour". You can also check the nutritional values and protein content on the packaging.
Sufficient kneading
The dough must be kneaded intensively for two important reasons. Firstly, because by kneading the gluten develop well, making the dough more and more supple and elastic. Because of this, the bread can hold a lot of air during rising. The second important reason is that by kneading the dough reaches the right temperature. A wheat dough rises optimally at a dough temperature of 27 °C. At this temperature the amylase enzymes from the flour can optimally cut up the starch in the flour. The sugars released in the process can then be converted into carbon dioxide (and alcohol) by the yeast cells. If your dough temperature is not right, your bread will not rise optimally.
The right dough temperature
There is a simple trick to always achieve the optimal dough temperature. First measure the temperature of the flour and apply the following formula: 2x desired dough temperature minus the flour temperature minus 10 °C for 10 minutes kneading = the desired water temperature. Practical example with a flour temperature of 18 °C: 54 °C (=2x desired dough temperature) minus 18 °C (flour temperature) minus 10 °C (10 minutes of kneading) = 26 °C water temperature.
Proofing at the right temperature
Now that the bread dough has been brought to the right temperature, you also want it to rise at that optimum temperature. In recipes for bread, you often see something like "leave the bread to rise in a warm place". But what is a warm place? How warm is it? You now know that it has to be 27 °C. The easiest way is to have a proofing cabinet or an oven with a proofing function. If you don't have one, you can also use a cooler and put a bowl of warm water in it (approx. 30 °C). The temperature in the cool box will then be around 27 °C. Put the dough in a large bowl (lightly greased), cover the bowl with foil or a plate (never let your dough dry out), and put it in the cooling box. In this way, you can improvise a proving box.
Lets bake!
There is so much more to know about bread, but for now you know more than enough to bake a perfect focaccia. And don't get too hung up on it either. If you can't get hold of any bread flour and want to start baking now? Take ordinary flour from the supermarket, it will make a fine vegan focaccia. It will also work without a proofing box. The most important points are: knead long enough, never let your dough dry out.
And would you like to know which factors determine the success of your baked goods even more? How to wing your results by understanding what goes on in your bakes? Then take a look at the Vegan Pastry Masterclass. In this course you will not only learn about delicious cakes, pies, biscuits, doughs and more, but also about the functions of the most important ingredients in pastry. This will make you bake better and it will teach you how to turn every single recipe into a full blown vegan version.
Focaccia with miso, cauliflower, rosemary and garlic
Equipment
1 baking tin approx. 35 x 25 cm

optional: bread proofing box or oven with proofing function

Large bowl for the rising of the dough
Ingredients
Dough ingredients
600

g

flour

preferably bread flour or T-65 flour

7

g

instant yeast

or 20 g of fresh yeast

390

g

luke warm water

12

g

salt

20

g

olive oil
Topping ingredients
75

g

olive oil

10

g

fresh rosemary leaves

chopped coarsely

6

cloves

garlic

sliced

200

g

very small cauliflower florets

1

el

miso paste

1

el

black peppercorns

¼

tl

salt

to sprinkle on bread
Instructions
Preparing the dough
Mix flour, salt, yeast and water by hand or with the dough hook of a stand mixer to form a dough. Knead the dough until it becomes supple and elastic.

600 g flour,

390 g luke warm water,

12 g salt,

7 g instant yeast

Add the olive oil and knead it well into the dough. Roll the dough into a large ball and put it in a lightly greased large bowl (the dough doubles in volume). Cover the bowl with plastic foil or a plate to prevent it from drying out.

Leave the dough to rise for 45 minutes, or until it has doubled in volume, at 27 °C in a proving cabinet, oven with a proving function or in a warm place.
Preparing the topping
Mix the small cauliflower florets with 50 g of the olive oil for the topping, the miso, the rosemary and the crushed black peppercorns. Rub everything together well with your hands.

75 g olive oil,

10 g fresh rosemary leaves,

200 g very small cauliflower florets,

1 el miso paste,

1 el black peppercorns,

6 cloves garlic

Sprinkle 25 g of the oil for the topping into the bottom of the baking tin and dump the risen dough from the bowl directly into the baking tin. Grease your fingertips with some olive oil and push the dough evenly into the baking tin.

Sprinkle the topping evenly over the dough and press the topping into the dough with your fingertips. Sprinkle a little bit of salt on the surface of the focaccia.
Proofing
Cover the tin with a damp cloth or plastic wrap and leave it to proof for another 20 minutes in a warm place or in the proving cabinet at 27 °C.
Baking
Meanwhile, preheat the oven to 190 °C for a convection oven or 200 °C for a conventional oven.

Bake the focaccia for approx. 20 -25 minutes in the middle of the oven until the top is nicely browned.

Drizzle the focaccia with some olive oil as soon as it comes out of the oven. Leave to cool for 10 minutes, then remove from the mould and leave to cool further on a wire rack.
Nutrition
Calories:
314.1
kcal
Carbohydrates:
46.1
g
Protein:
8
g
Fat:
10.8
g
Saturated Fat:
1.5
g
Polyunsaturated Fat:
1.5
g
Monounsaturated Fat:
7.1
g
Sodium:
598.3
mg
Potassium:
147.1
mg
Fiber:
2.4
g
Sugar:
0.7
g
Vitamin A:
37.5
IU
Vitamin C:
10
mg
Calcium:
24.8
mg
Iron:
0.9
mg