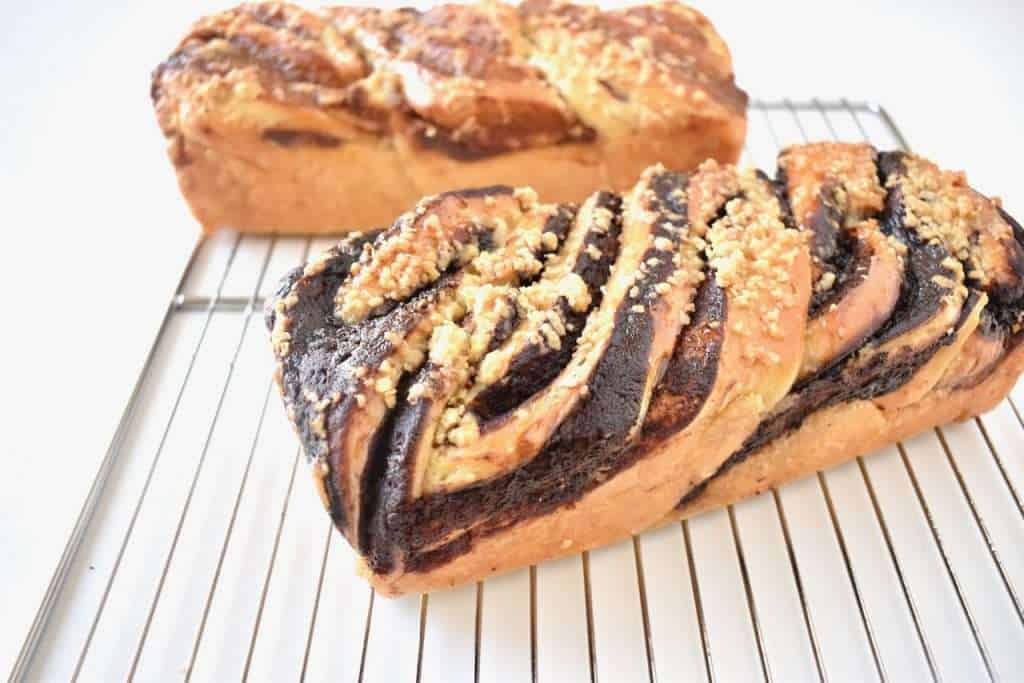 Your Guide to Vegan Babka: Origins, Recipe, and Our Two Favorite Delicious Fillings.
Even if you do not know what babka is, you have likely heard of it. Many people first heard the name of this tasty treat on a popular American sitcom. An episode of Seinfeld that came out back in 1994 had a scene about babka that received lots of laughs. Viewers may have learned that chocolate babka is better than the cinnamon style "lesser babka," but in reality, babka is made using all sorts of different fillings that people enjoy.
Now you might be wondering what babka is. You may also be curious if this food can be enjoyed on a vegan diet or what vegan baking looks like. Here's the deal with vegan babka.
What is babka, and where did it come from?
Babka is a braided bread or cake, sometimes referred to as yeast cake. This delicious baked good originated in Jewish communities in Eastern Europe. We are talking about Poland, Russia, and Ukraine. It is believed that babka was first created in the late 19th century.
Babka is part of the culture in Israel, but it can be found all over the world too. Emigrants from these parts of Eastern Europe brought babka to the United States many years ago, and it is now found in many other parts of the world as well.
This bread, or cake, is often seen among the many delicious food items at religious celebrations. Typically, you will see a variety of mouthwatering styles of babka incorporated into this celebratory spread. It is common to have multiple babkas at the table made using different fillings.
How is babka made?
To make babka, first, you need to create a yeast-based dough. Babka recipes can vary based on ingredients, so the process can look a little different for everyone. This tends to start with combining sugar, yeast, and salt in a mixer. Then you add in eggs, or an egg replacer, and mix again. Eventually, you would add water and butter, or a butter replacement, and continue mixing.
After following the directions in this recipe step-by-step, you will have created a smooth and elastic dough. You are not done yet! To make the perfect dough, it needs to be placed into a bowl, brushed with oil, and covered with plastic wrap. After it is all prepped, the bowl needs to be placed in the fridge and left to chill.
Some recipes will suggest leaving the dough to chill overnight, but with the direct two-step proofing method that is used in our recipe, the wait is much shorter. You will need to let the dough chill in the fridge for 45 minutes before pulling it back out.
While the dough is in the fridge, grab your loaf pan and grease it with oil. You may choose to use parchment paper as well because it will help you out later. You can also use this time to begin creating your filling. This process will look different depending on the filling you selected.
After this is done, it is time to grab the dough and roll it out. Before twisting it up to create the unique shape associated with babka, you will add some of the filling to the rolled-out dough. After the filling is added you will braid the dough.
The recipe we have created will help guide you through these steps. Eventually, you will have created an intertwined and twisted shape. From here you will place the dough in the pan you greased before. This needs to be done carefully so that it doesn't fall apart.
There is one more thing that needs to be done before the dough can be put in the oven to bake. The pan needs to be covered with plastic wrap and left to proof for another 20 to 30 minutes. Be sure to wrap this loosely. After this time goes by, you should notice that the dough has risen. It should be quite a bit bigger than it was before you left it to sit. Now it is time to bake.
As mentioned above, some recipes require letting the babka rest in the fridge overnight. Both of these methods have their pros and cons. The overnight method is easy, but you have to be patient and plan properly. The direct method requires a little more attention and effort on your part. You need to have a warm place for rising and proofing, but you will get your babka within a few hours so you can dig right in.
How do vegan baking and vegan bread-making work?
Typically, babka is made using a few non-vegan ingredients like eggs, butter, milk, and heavy cream. These ingredients may be added to the dough itself or us to create the fillings. Although this is traditional, it is entirely possible to ditch these ingredients and make delicious vegan babka. The Vegan Academy is here to prove it.
Vegan baking can be a daunting process to try for the first time, but it is doable. The main thing that is different between vegan baking and more traditional baking is the ingredient list. The same goes for vegan bread making. Check out our online Masterclass in Vegan Pastry. In this Masterclass you will learn the intricacies of vegan baking and gain a greater understanding and insight into the baking process.
Vegan bread tends to be natural and non-processed when made in the comfort of your own home, so those who try it can enjoy it in peace. Follow along with this recipe, and you should have the hang of it in no time.
With this recipe, you can pick between two tasty varieties of fillings for your vegan babka.
Many filling options can be used to make babka. They range from being on the sweet side to being on the savory side. As you may have guessed after watching that Seinfeld episode, chocolate tends to be the favorite. Other fillings include apple, raspberry, and more.
With this recipe, we carefully selected two delicious filling options for you to choose from. These filling options are chocolate and then a combination of cinnamon, almond (paste), and ginger. Yum!
No matter which filling option you decide to go with, the recipe follows the same general method as you read about above. Vegan bread-making doesn't have to be as difficult as it sounds. Follow this recipe, and you will be in good hands. Happy baking!
To be clear, this recipe is meant to make two babkas with two different fillings. If you stick to the quantities from the recipe below, you will end up with a chocolate and a ginger/cinnamon babka. If you want to make a single babka, halve the ingredients for the dough and prepare one of the two fillings below. If you want two babkas with the same filling, keep the dough quantities as below, and double the recipe of the chosen filling.
Babka, with chocolate or ginger/cinnamon filling
The most delicious vegan Babka
Equipment
stand mixer with dough hook

optioneel

2 bread/cake baking tin 25 cm length

1 greased bowl for the dough

1 sharp knife

1 Rolling Pin
Ingredients
500

g

flour

1

sachet

yeast

70

g

sugar

3

g

salt

250

ml

lukewarm water

approx 28° C

150

g

soft butter
Chocolate filling
80

g

chocolate

40

g

plant milk

50

g

butter

1

tsp

cacao powder

35

g

icing sugar

optional
Ginger/cinnamon filling
75

g

almond paste

30

g

brown sugar

1

tsp

cinnamon

50

g

ginger shavings with adhering syrup

50

g

soft butter

2

Tbsp

plant milk
streusel
50

g

flour

1

pinch

salt

1

pinch

baking powder

50

g

butter

25

g

sugar

20

g

oatmeal flakes
Instructions
For the dough
Combine flour, salt, sugar, yeast and water and knead, either manually or with the stand mixer and dough hook in 5 minutes to form a supple dough. Then work the softened butter into the dough in 4 portions and knead for a few more minutes until you have a soft, velvety and supple dough.

500 g flour,

1 sachet yeast,

70 g sugar,

3 g salt,

150 g soft butter,

250 ml lukewarm water

Form a ball of the dough and place the dough in the lightly oiled bowl. Cover the bowl with plastic wrap or a lid and let rise in a warm place (ideally 27° C) for about 45 minutes, or until the dough has doubled in volume. In the meantime, prepare the fillings, streusel and syrup.

After 45 minutes of rising, deposit the dough on a floured work surface and divide it into two portions. Roll out one piece of dough into a square of about 23 x 23 cm (the size of your baking tin – 2 cm). Flour your dough again if necessary to prevent sticking to your work surface or rolling pin.

Grease both baking tins. If desired, also place a piece of baking paper in the baking tin.

Spread the dough sheet with one of the fillings. Keep about 1 cm. of the dough free on all sides.

Now roll the piece up into a roll. Repeat this process with the second piece of dough and the other filling.

Now cut both dough rolls in half lengthwise with a really sharp knife.

Place the halves cut side up and lay one half over the other so that a large X forms.

Now braid the halves together. Pinch the dough ends together.

Place the braid in a greased baking pan. Repeat this process with the other two dough halves.

Cover both baking tins with plastic wrap or a cloth and set to proof for 20 minutes in a warm place (ideally 27° C).

Preheat your oven to 175° C.

After 20 minutes, sprinkle both the Babka's-to-be lightly with the streusel (make sure you can still see the beautiful filling) and place in the oven.

Bake the Babka's until golden brown in about 45 minutes. Check doneness with a thermometer (at least 85° C).

Pour the sugar syrup on and over the Babkas. Allow the Babkas to cool for about 20 minutes before carefully removing from the tin. Allow to cool further on a wire rack.
For the chocolate filling
Heat chocolate, milk, butter, cocoa powder and sugar in a saucepan or microwave until butter and chocolate are melted (allow to reach 65° C maximum). Once melted, use a hand blender or whisk to blend into a smooth cream.

80 g chocolate,

40 g plant milk,

50 g butter,

1 tsp cacao powder,

35 g icing sugar

Place the filling in the refrigerator to stiffen.
For the ginger/cinnamon filling
Blend all ingredients in a food processor or with a hand mixer until a smooth, spreadable mass. Set aside until use.

75 g almond paste,

30 g brown sugar,

1 tsp cinnamon,

50 g ginger shavings with adhering syrup,

2 Tbsp plant milk,

50 g soft butter
For the streusel
Sift flour, baking powder and salt into a bowl. Cut butter into cubes, then add the cubed butter, sugar and oatmeal flakes to flour and crumble/rub all ingredients together to form a sprinkleable crumb. Set aside until use.

50 g butter,

20 g oatmeal flakes,

50 g flour,

1 pinch salt,

1 pinch baking powder,

25 g sugar
For the syrup
Boil sugar and water briefly in a small saucepan until sugar is dissolved.
Notes
With this recipe you will bake two Babkas with two different fillings. Each filling is enough for one Babka. If you want to bake only one, halve the ingredients for the dough and choose one of the above fillings. 
Overnight rising method: Instead of rising in a warm place, you can also let the dough rise overnight in the refrigerator (or 8 hours). After 8 hours, proceed with rolling out, filling and braiding as described in the recipe. Since the cold dough is firmer, it is easier to handle. After filling & braiding, continue to let the Babka proof in a warm place as described in the recipe. Allow 20 minutes extra rising time because the dough still needs to come up to temperature.
Variation tip: Instead of making a chocolate Babka and a ginger-cinnamon Babka, you can also mix the cut rolls of dough. Then you get two Babkas with one half chocolate filling and one half ginger-cinnamon filling.
Nutrition
Serving:
65
g
Calories:
252.3
kcal
Carbohydrates:
32.4
g
Protein:
3.5
g
Fat:
12.6
g
Saturated Fat:
2.9
g
Polyunsaturated Fat:
3
g
Monounsaturated Fat:
5.9
g
Sodium:
191.1
mg
Potassium:
63.9
mg
Fiber:
1.1
g
Sugar:
13.9
g
Vitamin A:
453.9
IU
Vitamin C:
0.1
mg
Calcium:
23.4
mg
Iron:
0.4
mg