Tasty tofu ribs
Tasty tofu, that's what we want right? These smoked tofu ribs with tomato salsa are just that. Unfortunately, not everyone is equally fond of tofu, there are even real tofu haters. For people who want to switch to (more often) vegetable cooking and eating, tofu seems unavoidable. The tofu taste, or lack thereof, can take some getting used to for the tofu novice. With techniques such as smoking, grilling and marinating tofu, you can make your tofu much tastier. Tofu can take on any flavour you like, so whether it tastes good or not is up to you. And we're happy to help you on your way with great recipes.
But how can you cook tofu so delicious that even Uncle Leo asks for an extra portion? This recipe may be the answer.
These delicious tofu ribs are full of flavour. The hoy-sin sauce, the smoky taste of the tofu and the smoky taste of grilling. It's a real umami bomb that goes off in your mouth.
Additional tips for this tasty tofu recipe
You may decide to smoke the tofu yourself, which is easier than you think. Or you can buy the smoked tofu in the shops. In our Taste & Texture Masterclass, we have an instructional video on how to smoke products yourself. To make things easy for you, we'll explain how to smoke your own tofu here.
Smoking tofu
This is how you do it. Take a block of firm tofu. You can smoke the tofu whole as a block or in thick slices. For extra flavour, marinate the tofu with this marinade for 2 hours. Then smoke the tofu for 10 minutes in a special smoker. It can also be smoked in an improvised small smoking oven made from a pan with a lid. Sprinkle wood dust on the bottom of the smoking oven. Place the drip tray with a grid over it and put the block of tofu (or slices of tofu) on the grid. Put the oven on a medium heat. The wood dust will start to smoulder. Let the tofu smoke gently for 10 minutes. Then remove the oven from the fire and leave the tofu to stand for another 15 minutes..
Your smoked tofu is now ready for use. Instead of a smoker, you can also improvise with a pan with a lid on it: put a piece of aluminum foil on the bottom of the pan and sprinkle the sawdust on it, then hang a sieve in the pan and put the tofu in it. Put the lid on the pan and seal the edges with a wet cloth or aluminum foil. Put the pan on the fire and your homemade smoker is up and running.
More tasty tofu?
We have written a comprehensive article on tofu for you. In this article, we tell you about the best techniques to make tofu tasty. It's about marinades, pressing tofu, freezing tofu, crispy baking and much more. Check out our free recipes for Silken tofu with spicy peanut dressing, Curried tofu steaks, Smoked tofu with radish salsa and the recipe for tofu marinade. In the Taste & Texture Master Class, you will find more advanced recipes, such as Flan of silken tofu with beetroot carpaccio, Scrambled eggs made of silken tofu, Spicy tofu with cinnamon, star anise & black pepper. Check out the Vegan Pastry Masterclass for delicious sweet tofu recipes such as a Tofu chocolate cake and a Silken tofu chocolate mousse.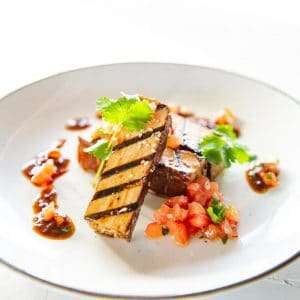 Smokey tofu ribs with a tomato salsa
Ingredients
For marinating the ribs
400

g

smoked tofu

1 block

80

g

hoi-sin sauce

Chinese fermented black bean sauce

1

el

chilipaste

or more to your liking

2

tl

oil

2

el

water

2

tl

sesame seeds
For the salsa
4

piece

ripe tomatoes

75

g

red onion

finely chopped

2

el

olive oil

1

el

lime juice

1

handful

cilantro leaves

chopped, but keep a few leaves aside for garnish
Instructions
Cut the tofu into ribs approx. 2 cm thick and 8 cm long

Mix the ingredients for the marinade and gently roll the tofu ribs through the marinade, leave to marinate for 30 min.

80 g hoi-sin sauce,

1 el chilipaste,

2 tl oil,

2 el water,

2 tl sesame seeds,

400 g smoked tofu

Halve the tomatoes and scoop out the seeds, then cut the tomatoes into small cubes

Mix the diced tomatoes with the olive oil, lime juice, chopped coriander, chopped red onion and some salt

2 el olive oil,

1 el lime juice,

1 handful cilantro leaves,

75 g red onion

Grill the tofuribs on the charcoal BBQ or on a grill plate

Serve with the remaining marinade drizzled on the ribs and sprinkled with the sesame seeds. Spoon the salsa generously around the ribs.
Notes
Serve these ribs as an appetizer, snack, or as part of the main course.
Nutrition
Calories:
227.4
kcal
Carbohydrates:
14.6
g
Protein:
10.1
g
Fat:
14.8
g
Saturated Fat:
1.8
g
Polyunsaturated Fat:
4.6
g
Monounsaturated Fat:
8.1
g
Trans Fat:
0.1
g
Cholesterol:
0.6
mg
Sodium:
329.4
mg
Potassium:
79.1
mg
Fiber:
1.9
g
Sugar:
7
g
Vitamin A:
36.8
IU
Vitamin C:
3.5
mg
Calcium:
147.5
mg
Iron:
1.7
mg