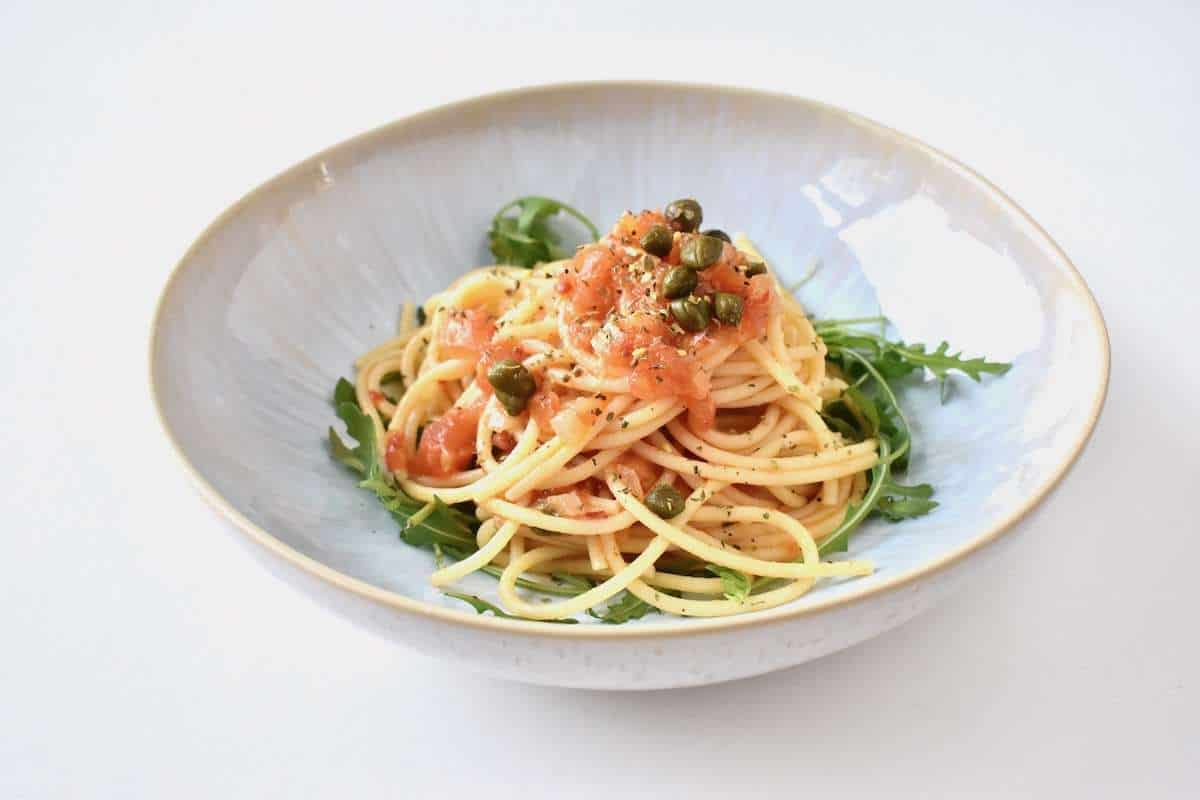 Vegan spaghetti all'arrabbiata
This delicious and easy-to-make vegan spaghetti all'arrabbiata does it every time. This spaghetti is on the table in 15 minutes. However, the flavour is so full and deep, as if you had been in the kitchen for at least an hour. A delicious and quick dish for lunch. Serve with a good salad or roasted vegetables and you have a main dish in no time.
The spaghetti you buy in the shops is produced with just durum wheat flour and salt, so it is perfect for your vegan spaghetti all'arrabbiata. If you choose a tagliatelle, please note that it often contains eggs. Originally, the recipe for spaghetti all'arrabbiata is all vegan, except for the cheese that is sprinkled on top when serving. This can easily be replaced with vegan cheese. In order not to make things too easy for ourselves and not everyone is equally fond of vegan cheese, we have chosen to sprinkle capers and za'atar on top. Za'atar is a spice mixture that is popular in the Middle East and the Mediterranean. It contains, among others, oregano, thyme, and sumac, and sometimes toasted sesame seeds. It adds depth and richness to the dish. Other alternatives are nutritional yeast flakes, tomato powder, or olive powder.
Italian Classics
In Italian cuisine, dairy products play an important role alongside the use of many fresh vegetables and herbs. This can make it difficult to prepare vegan versions of beloved Italian classics such as lasagna, ravioli, spaghetti Carbonara, or, for example, Tiramisu. The Vegan Academy has therefore dedicated an entire online course to Vegan Italian Classics. In this course, you learn how to prepare fresh pasta and ravioli yourself. The course also includes recipes for Spaghetti Carbonara, Lasagne al verdure grigliate and Melanzane Parmigiana. You will also learn how to make a perfect Ragú, a vegan Tiramisu and more. Have fun with this recipe for vegan Spaghetti all'arrabbiata. Want more? Then sign up for the online Vegan Italian Classics course or the live Italian Classics workshop.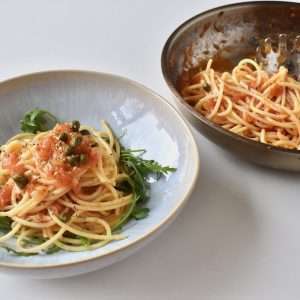 Spaghetti all'arrabbiata
Ingredients
120

g

spaghetti

6

tbsp

olive oil

75

g

minced onion

3

sprigs

thyme

2

bay leaves

2

cloves

garlic

chopped

1

tsp

crema di peperoncino

can be replaced by fresh and finely chopped red pepper or red pepper puree

450

g

tomato

peeled and chopped

2

tl

kappertjes

1

tl

za'atar

or use dried oregano

1

hand

rocket leaves
Instructions
Bring 2 litres of water to a boil with 20 g of salt and cook your spaghetti "al dente" in it (as soon as the water boils).

In the meantime, heat a skillet or frying pan, add the olive oil and softly fry the chopped onion for about 5 min.

75 g minced onion,

6 tbsp olive oil

Add the thyme, garlic and bay leaf and fry for 1 minute, then add the red pepper puree and mix into the oil.

3 sprigs thyme,

2 bay leaves,

2 cloves garlic,

1 tsp crema di peperoncino

Add the tomatoes, turn up the heat and let them melt and reduce for 5 minutes.

Meanwhile, drain the spaghetti and add the hot spaghetti to the sauce.

Mix spaghetti and sauce well and leave to cook for another minute so the spaghetti can absorb the sauce. Add salt to taste.

Put some rocket leaves in deep (preheated) plates and divide the spaghetti with the sauce on top over the plates.

Sprinkle with capers and za'atar (or with vegan Parmesan or with nutritional yeast flakes).

2 tl kappertjes,

1 hand rocket leaves,

1 tl za'atar
Nutrition
Serving:
200
g
Calories:
713.8
kcal
Carbohydrates:
69.2
g
Protein:
12.3
g
Fat:
44.3
g
Saturated Fat:
6.2
g
Polyunsaturated Fat:
5.1
g
Monounsaturated Fat:
31.3
g
Sodium:
74.3
mg
Potassium:
726.3
mg
Fiber:
6
g
Sugar:
9.1
g
Vitamin A:
1783.3
IU
Vitamin C:
33.8
mg
Calcium:
65.2
mg
Iron:
2.8
mg