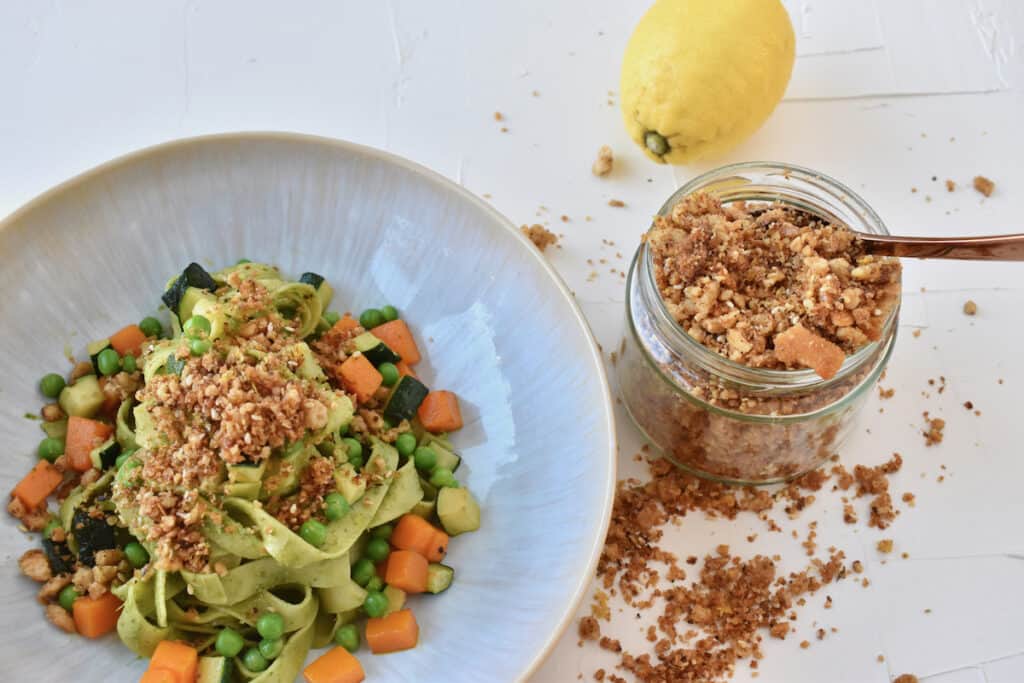 Pangrattato
Pangrattato is an Italian breadcrumb topping that has become increasingly popular in recent years. It is made by toasting breadcrumbs in olive oil with seasonings, and is often used as a crunchy topping for pasta dishes, roasted vegetables, or soups. The name "pangrattato" means "grated bread" in Italian, and it has its roots in southern Italian cuisine, where it was traditionally used as a way to use up stale bread. It is sometimes also referred to as "poor mans Parmesan". This simple yet delicious ingredient adds a crunchy texture and nutty flavor to a variety of dishes, ranging from pasta and salads to soups and stews.
Pangrattato is made by toasting breadcrumbs in olive oil until they are golden brown and crunchy. The breadcrumbs can be made from any type of bread, but Italian bread or sourdough are the most commonly used. The toasted breadcrumbs are then seasoned with herbs, possibly garlic, and salt to enhance their flavor.
One of the most popular uses of pangrattato is in pasta dishes. It is often sprinkled over spaghetti or linguine with garlic and oil (spaghetti aglio e olio) for added texture and flavor. Pangrattato can also be used as a topping for pasta dishes such as carbonara or cacio e pepe.
Pangrattato is also commonly used in salads. It can be added to a salad of bitter greens, such as arugula or radicchio, to balance the bitterness with its nutty flavor and crunchy texture. Pangrattato can also be used as a topping for roasted vegetables, such as broccoli or cauliflower, to add a crispy crunch.
In addition to pasta and salads, pangrattato is often used in soups and stews. It is a common ingredient in minestrone, where it is used to thicken the soup and add a crunchy texture. Pangrattato is also used in Tuscan bread soup (ribollita) to add a crunchy topping.
Pangrattato is a simple yet versatile ingredient that can add a lot of flavor and texture to a variety of dishes. It is easy to make at home and can be customized to suit individual tastes by adding different herbs and spices. Whether used as a topping for pasta or a crunchy addition to soups and salads, pangrattato is a must-have ingredient for many Italian-inspired dishes.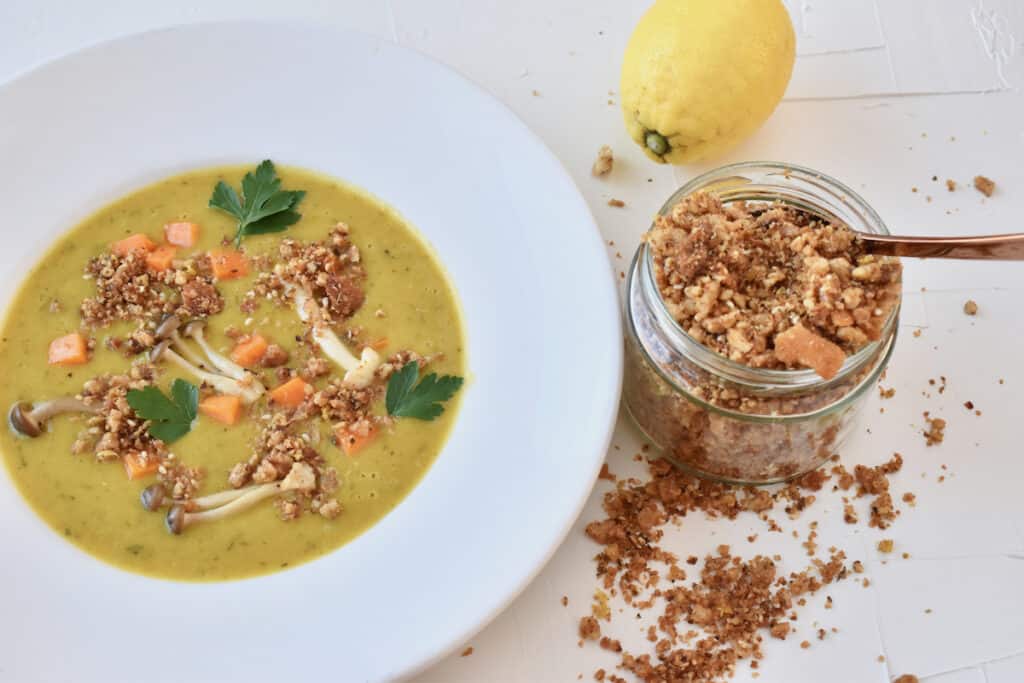 To make pangrattato, we start by drying slices of bread in the oven or sun, then we chop them up with some nuts to a crumbly texture. Next we start frying the breadcrumbs and nuts in some olive oil. Now you can your add seasonings, such as oregano and grated lemon zest. We've also added some nutritional yeast to create a pungent and cheesy taste. You could also add some garlic when frying the breadcrumbs, but only if you plan to use the pangrattato within a few days. If you would like to store it for a longer period of time we recommend not to add any "wet" ingredients, Otherwise, it may go moldy.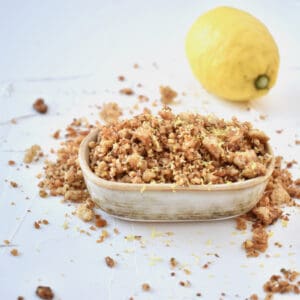 Pangrattato
Ingredients
100

g

stale bread

100

g

walnuts

1

tl

sesame seeds

1

el

nutritional yeast

2

el

olive oil

1

el

dried oregano

1

lemon, the zest

1

tl

salt
Instructions
dry the bread in the oven (or in the sun in summer)

coarsely grind the bread and walnuts in the food processor

heat up the oil in a frying pan

add the bread, nuts and sesame seeds to the pan and keep shaking and stirring

when the bread mixture starts to colour add the lemon zest, oregano, nutritional yeast and salt

1 el nutritional yeast,

1 el dried oregano,

1 lemon, the zest,

1 tl salt

cook for another 1 minute and stir

allow to cool, use immediately or store in a sealable jar or pot
Nutrition
Serving:
25
g
Calories:
123.6
kcal
Carbohydrates:
6.9
g
Protein:
3.1
g
Fat:
10
g
Saturated Fat:
1.1
g
Polyunsaturated Fat:
5.2
g
Monounsaturated Fat:
3.1
g
Trans Fat:
0.003
g
Sodium:
283.6
mg
Potassium:
81.8
mg
Fiber:
1.6
g
Sugar:
0.9
g
Vitamin A:
11.1
IU
Vitamin C:
0.9
mg
Calcium:
33.4
mg
Iron:
0.9
mg