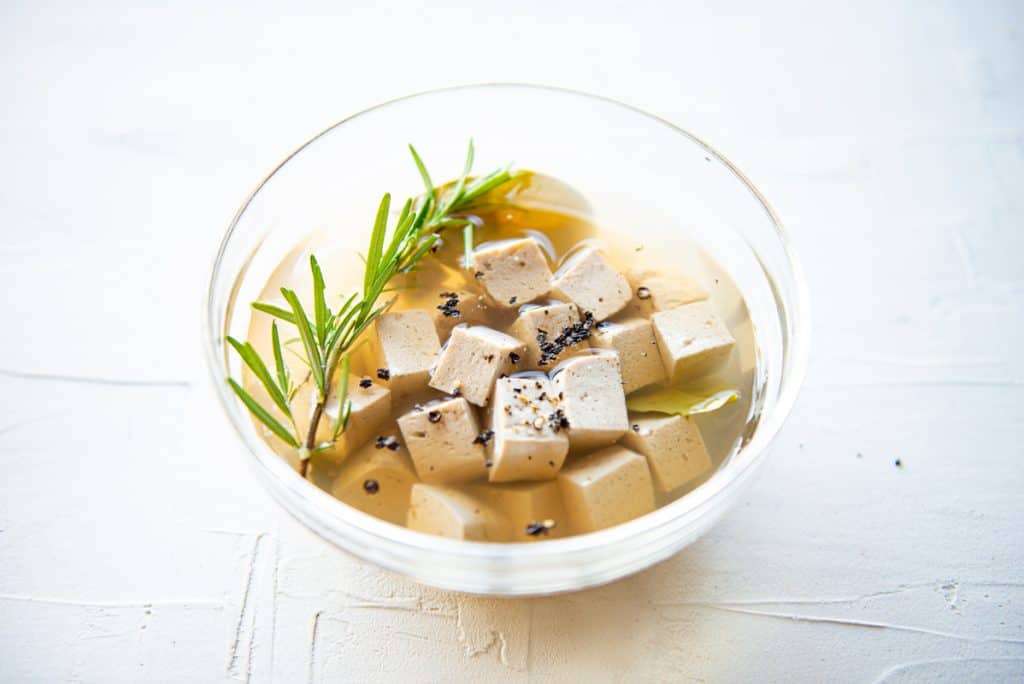 Marinating tofu
When marinating your tofu with this tofu marinade, the flavours penetrate below the surface of the tofu. This way, you do not only have flavour on the outside, but also on the inside, which is extra tasty. In this marinade, in addition to flavourings, you also dissolve salt. We call this a wet marinade. Unfortunately, the actual penetration of a marinade into tofu is rather disappointing. Fortunately, there are various methods of improving the absorption capacity of tofu during marinating.
Preparation method for marinating tofu: freezing and double freezing
Freezing and thawing the tofu is a good way to make it absorb more of the marinade or sauce's flavour. It also helps to make the tofu firmer and drier, so that you can fry it until crispy. Double freezing and defrosting reinforces the effect. After freezing and defrosting, squeeze the tofu to get rid of as much moisture as possible.
The attached photo shows the effect of freezing and squeezing. We put the two blocks of tofu in a coloured solution for an hour to see the effect clearly. After marinating, we cut both blocks to see how far the marinade had penetrated. On the photo, you can clearly see that the marinade in the frozen and thawed tofu is more pronounced. You can also see that more marinade has soaked into it. This experiment proves that freezing, thawing and pressing is an effective technique for giving your tofu more flavour. Below is a recipe for a wet tofu marinade. This recipe is very suitable as a preparation when smoking tofu yourself.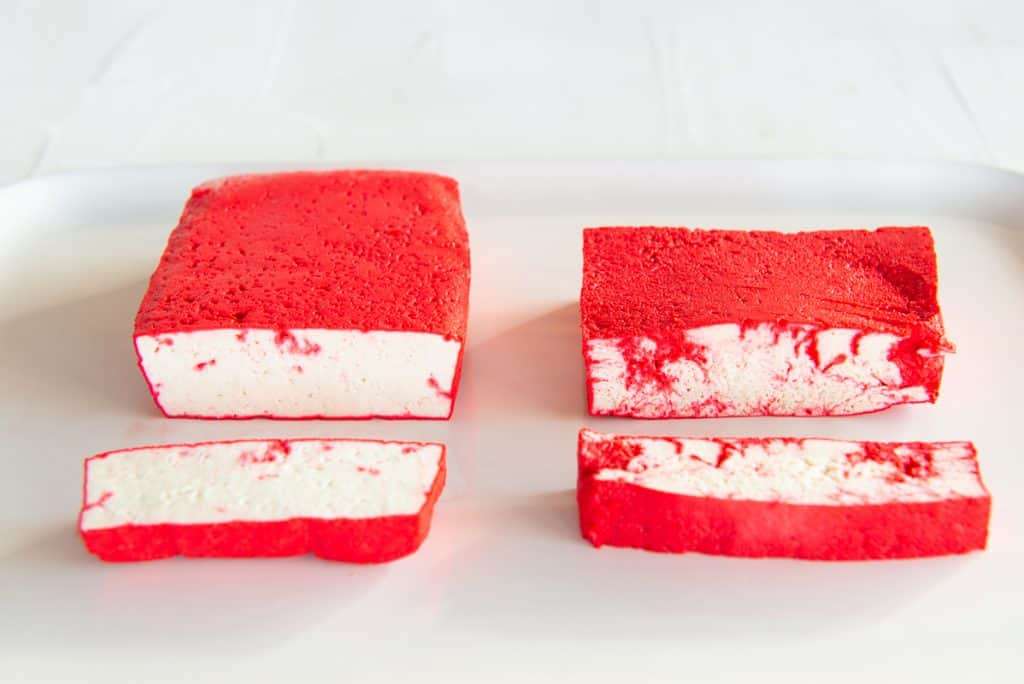 Read more about tofu and tasty tofu recipes?
We have written a comprehensive article on tofu for you. In this article, we tell you about the best techniques to make tofu tasty. It's about marinades, pressing tofu, freezing tofu, crispy baking and much more. Check out our free recipes for Silken tofu with spicy peanut dressing, Curried tofu steaks, Smoked tofu with radish salsa and the recipe for tofu marinade. In the Taste & Texture Master Class, you will find more advanced recipes, such as Flan of silken tofu with beetroot carpaccio, Scrambled eggs made of silken tofu, Spicy tofu with cinnamon, star anise & black pepper. Check out the Vegan Pastry Masterclass for delicious sweet tofu recipes such as a Tofu chocolate cake and a Silken tofu chocolate mousse.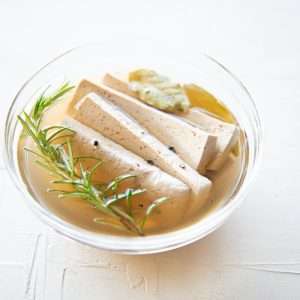 Tofu Marinade
add tast to your tofu with this easy marinade
Ingredients
400

ml

water

8

g

salt

2

takjes

rosemary

2

bay leaves

10

black peppercorns

crushed
Instructions
Boil the water with the salt, rosemary, bay leaf and peppercorns.

400 ml water,

8 g salt,

2 takjes rosemary,

2 bay leaves,

10 black peppercorns

Pour the hot marinade over the sliced or diced tofu and leave it to marinate for an hour.
Notes
If you want to smoke tofu, you can also apply this marinade to a whole block of approx. 350 – 450 g.