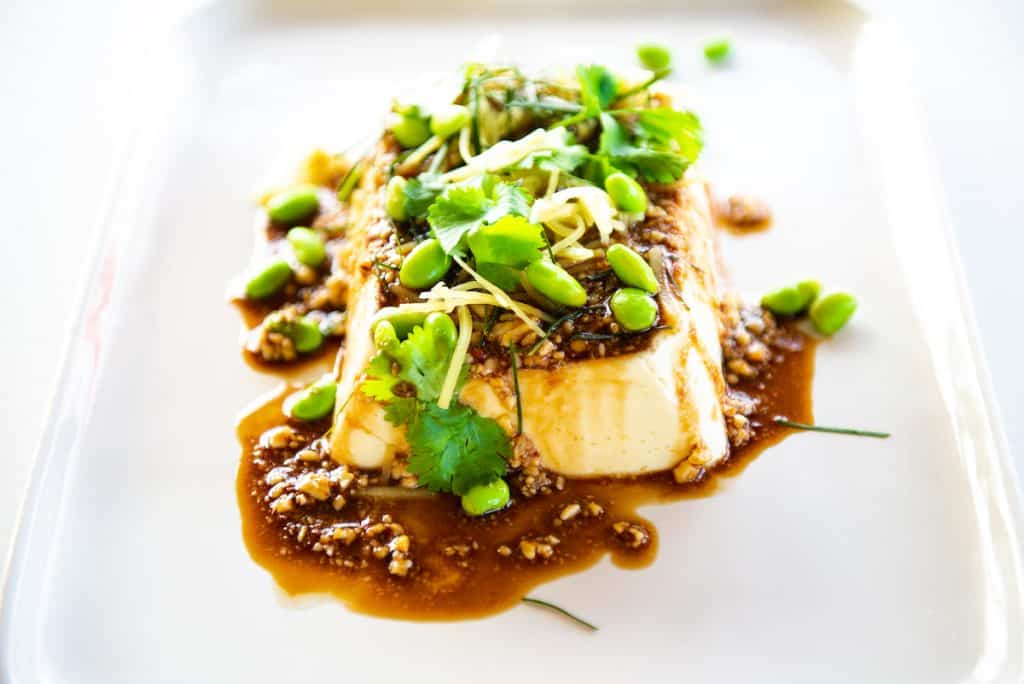 How to make tofu tasty
How to make tofu tasty seems to be a question a lot of people struggle with. When switching to a (more) plant-based lifestyle, tofu seems unavoidable. However, the taste (or lack thereof) of tofu often takes some getting used to for the newcomer. From a culinary point of view, the essence of tofu lies primarily in two facets. What are these two facets? First facet is the experience of a special texture, its mouthfeel. The second facet is the the possibility of combining with every conceivable flavor. From a culinary point of view, tofu is everyone's friend. It feels just as happy in a sauce full of garlic, ginger and chili peppers as in delicate vanilla cream with strawberries.
But how to make tofu tasty? How do you add a full and deep flavor to it? How do you prepare tofu so delicious that even Uncle Leo, who loves steak, asks for an extra portion? This recipe is all about that question. We have a lot of great tofu recipes on our site. We even have written a full article on the subject of how to make tofu tasty. In this article we discuss several techniques that you can use to make lovely recipes with tofu. But why don't you just start with this one? We feel you won't regret it.
If you use intense flavours in your recipes with tofu, you need to make less effort to add flavour to the tofu itself. In the various Asian cuisines they really know how to make tofu tasty. Think of Chinese and Japanese dishes with soy sauce, garlic, ginger and chillies or spicy Thai curries. In this recipe for spicy silken tofu, the tofu is simply topped with a rich sauce based on soy sauce, roasted peanuts, garlic and red pepper paste and finished off with crispy ginger strips, lime leaves and coriander. Now you just spoon the tofu on with the sauce. A delicious appetiser or snack, it's tasty, nutritious and healthy. The special structure of the silken tofu and the deliciously deep flavours of the sauce make this dish a culinary feast.
Silken tofu with spicy peanut-soy dressing, crispy ginger, lime leaf and cilantro
Delicious appetiser, easy and surprising
Ingredients
50

g

roasted peanuts

chopped

1

tl

chilipaste

or more, to taste

2

el

water

1

tl

brown sugar

4

el

light soy sauce

1

clove

garlic

chopped

1

block

silken tofu

approx. 400 g

50

g

peeled ginger

cut into very thin strips and blanched briefly

1

stuk

kaffir lime leaves

removed the grain and cut it into hair-thin stripes

50

g

fresh soy beans

edamame

1

handful

cilantro leaves
Instructions
Mix the chopped peanuts with the chillipaste, water, sugar, soy sauce and chopped garlic to form a dressing.

50 g roasted peanuts,

1 tl chilipaste,

1 tl brown sugar,

4 el light soy sauce,

1 clove garlic,

2 el water

Place the block of silken tofu on a plate or platter.

Spoon the dressing generously over and a little around the silken tofu.

Garnish with the ginger julienne, the edamame beans, the lime leaves julienne and the cilantro leaves.

50 g peeled ginger,

1 stuk kaffir lime leaves,

50 g fresh soy beans,

1 handful cilantro leaves
Notes
Alternatively, divide the silken tofu into quarters and prepare a plate for each person. Carefully scoop the silken tofu onto the plates with a spatula or cake server to prevent the piece of silken tofu from breaking.
Nutrition
Calories:
114.1
kcal
Carbohydrates:
8.1
g
Protein:
6.9
g
Fat:
7
g
Saturated Fat:
1.1
g
Polyunsaturated Fat:
2.5
g
Monounsaturated Fat:
3
g
Sodium:
1026.2
mg
Potassium:
246.9
mg
Fiber:
2.3
g
Sugar:
1.9
g
Vitamin A:
19.4
IU
Vitamin C:
1.7
mg
Calcium:
28.8
mg
Iron:
1.3
mg