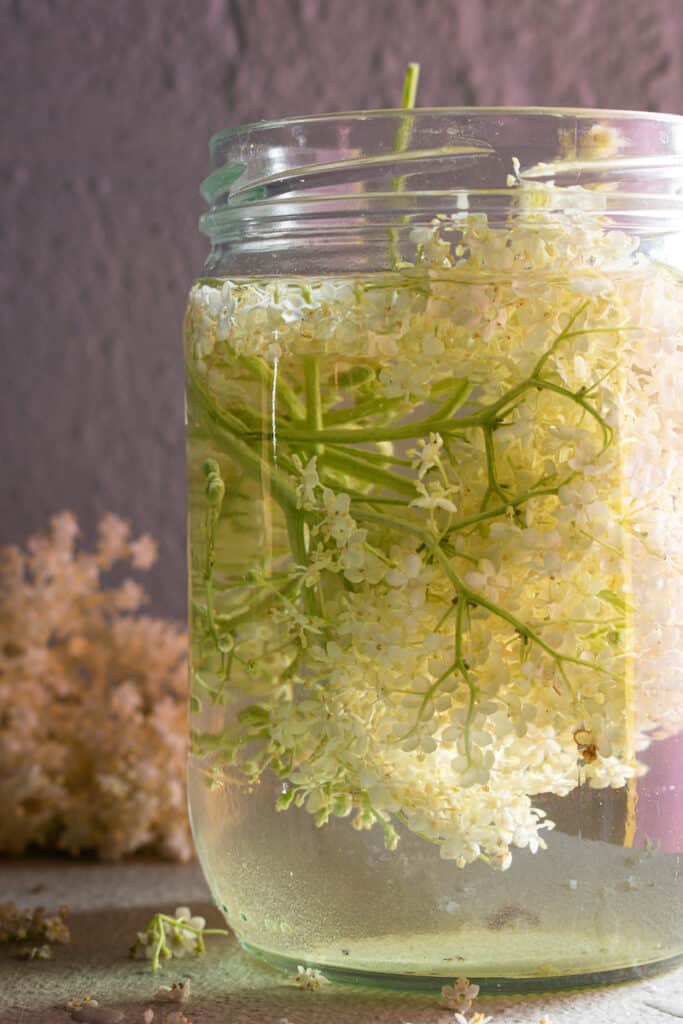 Elderflower syrup: a fresh-floral & sizzlingly sweet spring drink!
Yaa, elderflower, that makes us very happy. Our chef has wonderful childhood memories of it: his mother tried out all kinds of food and a highlight of his childhood memories are the crêpes with elderflower syrup. The great thing about elderflower syrup is that you can store it for months, so you can still enjoy its delicious flavour in summer & winter (if you make a lot or if you can restrain yourself a little).
Cycle or walk around your area a bit and you will soon see plenty of elderflower bushes in the park, along a meadow or forest edge. Do not pick blossom at "dog pee height" and also avoid picking along a busy road due to traffic exhaust. Did you know that you can also pick elderberries in autumn for a delicious syrup? For that (and for the other animals), you have to leave some elderflower blossom, so that the berries can grow from there. Luckily, elderflower is rampant.
What can you use elderflower syrup for?
What not. As a syrup to go with pancakes, crepes or waffles, as a refreshing drink diluted with water or apple juice, in an exciting cocktail, as a base for sorbet ice cream, a dash in a glass of vegetable milk as a thirst quencher, over fresh strawberries, as a jelly over a cake or pastry etc.
Our most exciting combo with elderflower? Red beetroot soup with elderflower sorbet ice cream.
From mid-May to early July you can pick the umbels, the flowers should be nice and fresh-white. Try to avoid the umbels that are full of insects as much as possible. WE like to use scissors for picking. Gently shake out the blossom as much as possible to get rid of most of the insects, you can also gently wash the umbels but you will lose some pollen and therefore flavour. Have clean & sterilized empty jam or weck jars or sealable bottles ready to fill the hot syrup into.
Elderflower syrup
Equipment
1 wide bowl or pan

well over 3 liters

6 preserving or jam jars 500 ml

or 3 of one liter

1 fine sieve
Ingredients
500

g

elderflower blossom

the green leaves removed

2400

g

sugar

2

lemons

3

l

water
Instructions
Wash the umbels carefully and then put them in a large pan or bowl and pour 3 liters of water over them. Optionally, you can put a weight on the elderflowers to keep them submerged. Leave this covered with a plate, lid or cloth for 1 day at room temperature.

500 g elderflower blossom,

3 l water

Now strain the liquid through a sieve and, if you want it very nicely clear, through a clean cloth, then measure out the amount of water. Make up to 3 liters.

Meanwhile, sterilize your bottles and jars by filling them with boiling water.

Add sugar and lemon juice to the elderflower water. If you used more or less elderflower and water than the exact recipe, use the following rule of thumb: about 800 grams to 1 kg of sugar and the juice of half a lemon per liter of liquid. Want a less sweet but still a nice viscous syrup? Then use gelling sugar.

Bring the water with sugar and lemon to a boil. Let boil for 3 minutes and then turn off the heat. Pour the hot elderflower syrup into the clean bottles or jars sterilized with boiling water and seal immediately with a lid. Let cool and store the syrup in a cool dark place.