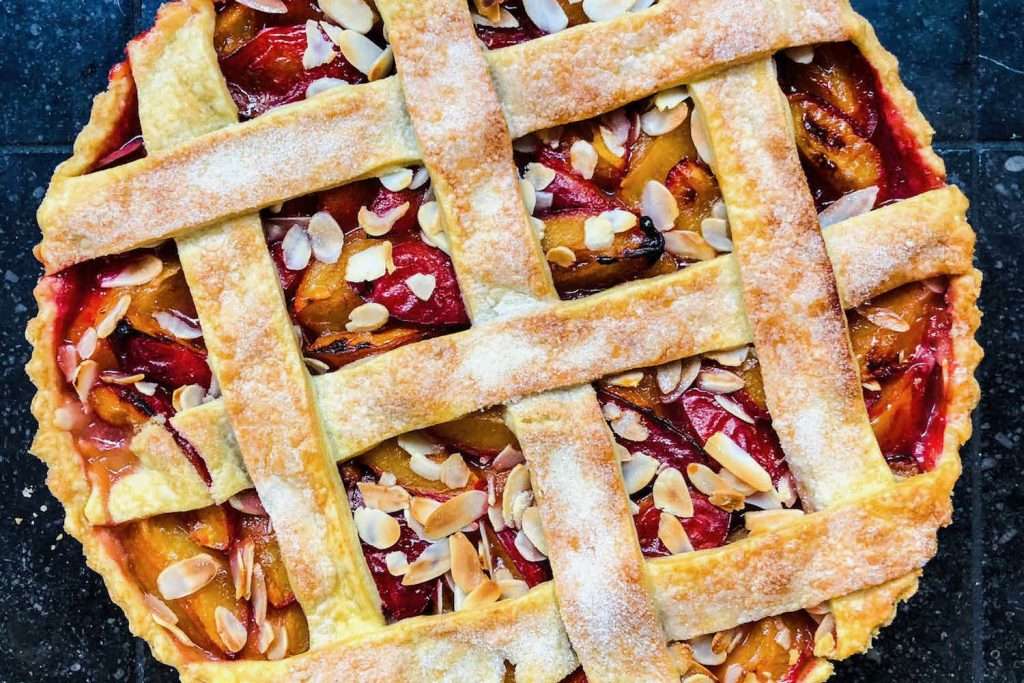 Plum Pie
Equipment
30 cm pie tin with removable bottom

baking paper
Ingredients
300

g

all purpose flour

125

g

sugar

4

g

salt

(1 teaspoon)

250

g

cold margarine

50

ml

ice cold water

1200

g

plums

1

tsp

cinnamon
Instructions
Mix 175 grams of flour with the salt and 100 grams of sugar briefly in a food processor. Add the margarine in cubes and turn briefly until everything is halfway mixed. Traces of flour are allowed to remain. Stir everything well in the machine and add the rest of the flour. Give 4-5 short pulses with the machine until a crumbly dough is formed. Transfer the dough into a bowl and add the water. Mix everything quickly until you get a moist dough which is a little sticky. Form a flat ball and wrap in plastic wrap. Leave to stiffen for 1 hour.

Halve the plums and remove the pits. Cut the halves into quarters. Mix the plums well with the rest of the sugar and cinnamon in a bowl and leave until the cake will be filled.

Preheat the oven to 180 °C conventional or 160 °C convection.

Take the dough out of the fridge and leave to warm up for 5 minutes. Leave 1/3 of the dough out. Roll 2/3 on a floured surface to a circle, large enough to cover the pie tin (30 cm). This is easiest between 2 large sheets of baking paper. When the dough is large enough, remove the top sheet of baking paper. Put the pie tin on top and tip the dough and mould over so that the bottom sheet of baking paper is on top. Remove the paper from the dough and press the dough well into the mould. You can also roll out the dough on a floured work surface. Then wrap the dough around the rolling pin and roll it over the cake tin. Press it well into the mould.

Put the plums in a colander and let them drain well. By first marinating the plums in sugar (this is called maceration), the moist is extracted from the fruit. The filling therefore leaks less during baking so that the dough remains more brittle. Spread the plums over the bottom of the pie.

Roll out the rest of the dough thinly into a square of about 30 centimeters big. Cut it into strips and make a braid of these on top of the pie. Press the ends well onto the edges of the dough base. Brush the dough with water and sprinkle with coarse granulated sugar.

Bake the cake in the oven for about 40 minutes. Preferably on an oven stone. Let the cake cool for 15 minutes and cut into wedges. It is most delicious when the pie is still warm!