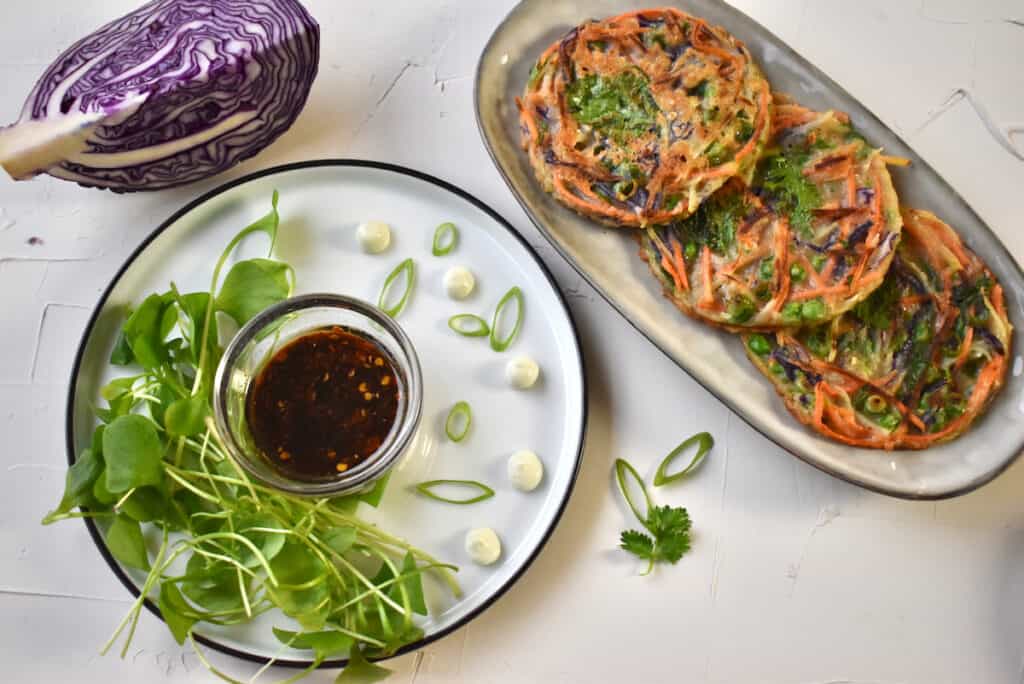 Do you often have leftover veggies in the fridge that you don't know what to do with? A piece of carrot or red cabbage, some cooked green beans, a few champignons or a piece of leek? If you leave it lying around, it spoils and you end up having to throw it away. With this recipe for vegan Korean vegetable pancakes, you can make nice use of these leftovers.
After all, it seems we all throw away far too much food. How is that in your household?
Some 9 per cent of our food disappears unused into the rubbish bin every year, which is over 34 kilos of food per person per year. *Source Wikipedia
Small pre-cut portions from the refrigerated section in the shop or from a meal service seem like a nice solution, but again, it has to be kept in plastic packaging and refrigerated. Moreover, cut vegetables spoil sooner than uncut ones. Whereas with some handy recipes and a few staples from your kitchen cupboard, you can make a delicious meal or a tasty snack in no time.
Korean vegetable pancakes: healthy and delicious
These vegan Korean vegetable pancakes are healthy and super tasty. It gets even better if you eat some fermented vegetables with it. Very tasty, super healthy and fermenting vegetables yourself is actually easier than you might think! In Japan, almost every meal starts with a pickled or fermented vegetable. Excellent for the gut flora.
Fermenting vegetables is also an excellent way to make your vegetables last longer in a healthy way. Would you like to know more about it? We have workshops on vegan fermentation. Check our workshop calendar for the next date or join on of our online courses.
Tasty dippings to go with your veggie pancakes


Korean vegetable pancakes
Ingredients
Filling
200

g

vegetables

e.g. white or red cabbage, leeks, green beans, carrots, cauliflower etc.

1

el

fresh herbs

for example, coriander, parsley, or chives

1/2

tl

Korean red chilli flakes

or other red chilli flakes
Batter
100

g

flour

30

g

rice flour

20

g

corn flour

1

tl

baking powder

1

tl

sugar

1

tl

salt

220

ml

cold water

oil for frying
Instructions
For the filling
Coarsely grate or finely julienne hard vegetables such as carrots, cabbage, celeriac, etc. Vegetables with a long cooking time such as green beans should be pre-cooked briefly. Slice leeks into very thin strips. Slice champignons or other mushrooms into thin slices or strips. Cauliflower or broccoli in small florets, thinly slice or grate broccoli and cauliflower stems.
For the batter
Sift the flours, salt and baking powder and mix everything together with a whisk.

100 g flour,

30 g rice flour,

20 g corn flour,

1 tl baking powder,

1 tl salt

Add the cold water and sugar and stir to form a batter.

1 tl sugar,

220 ml cold water

Mix the veggies, spices and chilli flakes into the batter.

1 el fresh herbs,

1/2 tl Korean red chilli flakes

Heat a thin layer of oil over medium-high heat in a frying pan.

Using a ladle or 2 tablespoons, scoop a mound of the batter with veggies into the pan and flatten slightly. Fry 2 to 3 pancakes at a time (depending on size of pan).

Fry the pancakes for 2 to 3 minutes on each side until they are nicely golden brown with crispy edges. Place the pancakes out of the pan on kitchen paper for a moment to soak up the excess oil.

Eat directly with this delicious soy sauce and this lime leaf-wasabi mayo and some crisp green salad.
Notes
If you don't have all three flours in stock, you can replace it by using more of one of the other flours. 
Nutrition
Calories:
115.6
kcal
Carbohydrates:
24.1
g
Protein:
3.8
g
Fat:
0.7
g
Saturated Fat:
0.1
g
Polyunsaturated Fat:
0.3
g
Monounsaturated Fat:
0.1
g
Sodium:
486
mg
Potassium:
107.2
mg
Fiber:
2.1
g
Sugar:
0.8
g
Vitamin A:
1800.3
IU
Vitamin C:
4.4
mg
Calcium:
58.4
mg
Iron:
0.7
mg