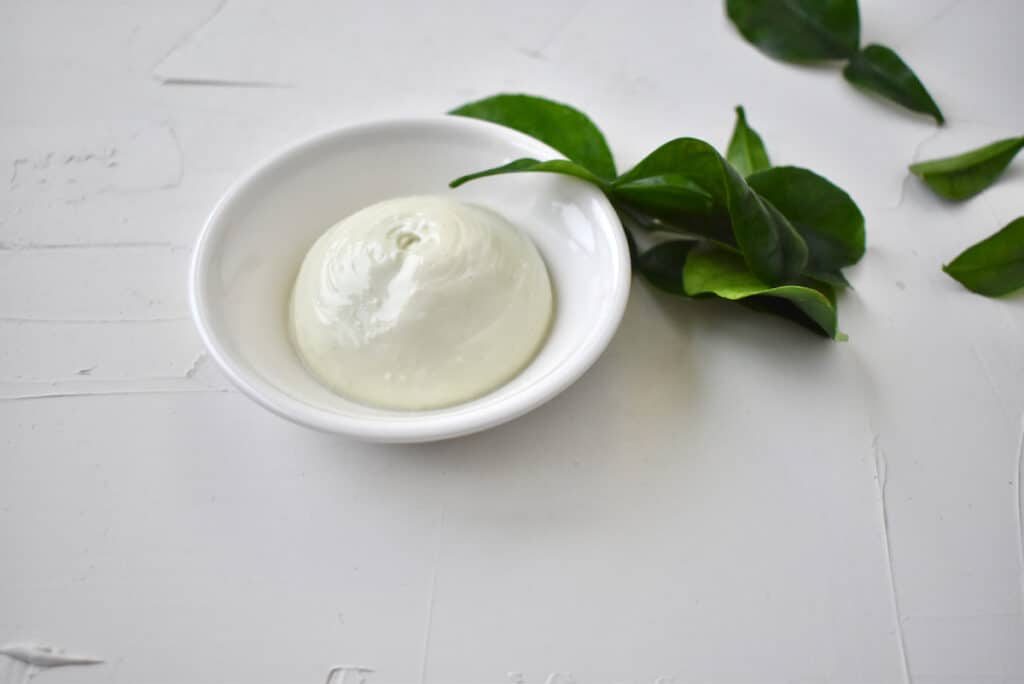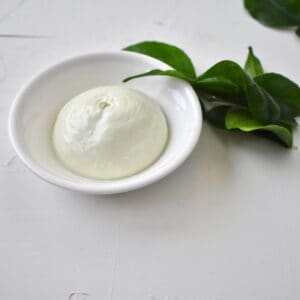 kaffir lime & wasabi mayonnaise
Ingredients
180

ml

neutral tasting oil

e.g. rapeseed, sunflower or peanut oil

15

kaffir lime leaves

100

g

soy milk

1

el

lemon juice

1

tl

wasabi paste

2

g

salt
Instructions
To make the kaffir lime leave oil
Heat the oil together with the kaffir lime leaves to about 80° C.

180 ml neutral tasting oil,

15 kaffir lime leaves

Transfer the oil and leaves to a measuring cup or beaker and puree the leaves as finely as possible with the hand blender. Then leave for another 5 minutes to infuse.

Strain the oil through a fine strainer (tea strainer or bouillon strainer). Press the oil well out of the leaves.
For the mayonnaise
Put soy milk, lemon juice, wasabi and salt in a mixing cup and blend with your hand blender. Then slowly add the oil while the hand blender is operating. Move the blender up and down as soon as it starts to thicken so that the oil mixes well. Taste briefly and add extra salt, lemon juice or wasabi if necessary.

100 g soy milk,

1 el lemon juice,

2 g salt,

1 tl wasabi paste
Notes
If you want to make things easier for yourself, you can use a ready-made vegan mayonnaise and mix in some wasabi and homemade kaffir lime oil. You can also use the oil for all sorts of other uses: in dressings and vinaigrette, to finish a sauce, to roast vegetables with, on bread you want to toast, etc. 
Nutrition
Serving:
10
g
Calories:
4.5
kcal
Carbohydrates:
0.6
g
Protein:
0.2
g
Fat:
0.1
g
Saturated Fat:
0.01
g
Polyunsaturated Fat:
0.1
g
Monounsaturated Fat:
0.02
g
Sodium:
40.6
mg
Potassium:
7.4
mg
Fiber:
0.04
g
Sugar:
0.04
g
Vitamin A:
10.4
IU
Vitamin C:
0.3
mg
Calcium:
6.4
mg
Iron:
0.03
mg