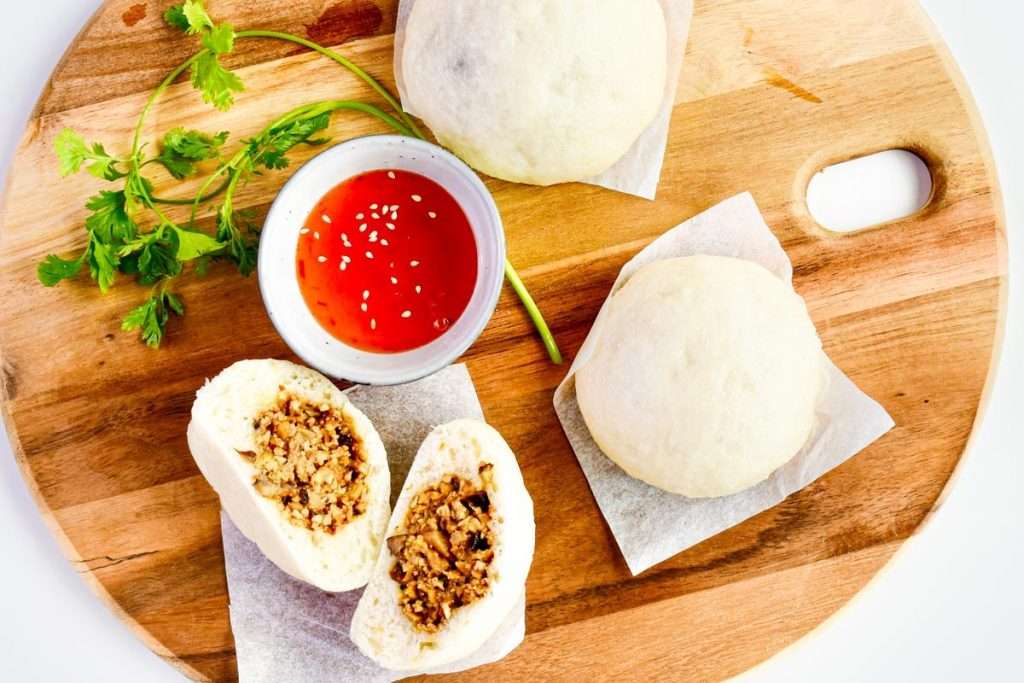 Bapao
A true delicacy, these steamed and stuffed Indonesian buns
Equipment
steam cooker

parchment or baking paper sheets
Ingredients
For the dough:
350

g

*Bapoa flour

may be substituted with 320 g patent flour mixed with 30 g rice flour

200

ml

lukewarm water

10

g

sugar

5

g

instant yeast

10

g

oil

2

g

salt
Stuffing 1. Indonesian tofu and tempeh filling (sufficient for 10 bapao)
4

el

oil

150

g

diced tempeh

150

g

diced tofu

150

g

shiitake mushrooms in slices

20

g

garlic

chopped

15

g

laos root

chopped or grated

20

g

ginger

chopped or grated

25

g

peteh beans

Indonesian food shop

3

daun salam leaves

Indonesian food shop

3

limoenblaadjes

1

tl

ground coriander seed

1

tl

ground cumin seed

60

ml

soy sauce

2

tl

sambal

50

ml

ginger syrup

40

g

tamarind puree
Stuffing 2. Indonesian bean stuffing (enough for 10 bapao)
2

shallots

2

cloves

garlic

3

cm

ginger

2

el

oil

200

g

vegan minced meat

250

g

kidney beans

1

el

sugar

1

el

sambal

4

el

kecap manis

1

tl

Chinese five spice powder
Instructions
Starting the dough:
Mix all the ingredients for the dough and knead for 6 – 8 minutes to a supple and elastic dough. Cover the dough in a bowl (grease it lightly with oil to prevent sticking) and put it in a slightly warm place and let it rise for an hour.

If you have not yet prepared the filling of your choice, now is the time to do so.
Preparation of filling no. 1:
Heat a frying pan with the oil and fry the tempeh, tofu and shi-take in it for 5 – 6 minutes. If necessary, you can add some more oil.

Add the garlic, ginger and laos root and fry for about 1 minute.

Add the coriander and cumin and fry for 1 minute.

Add the lime leaves, salam leaves, peteh beans, ginger syrup, soya sauce, sambal and tamarind puree. Mix everything together and now let it simmer under a lid for 10 – 15 minutes (watch out for boiling dry, if necessary add a little water).

Remove the lime and salam leaves and finely chop the filling to a minced consistency (this can be done with a knife or with short pulses in the food processor). Leave to cool.
Preparation of filling no.2:
Chop the shallots and garlic finely and grate the ginger. Heat the oil in a frying pan and fry the onion with the vegan minced meat for approx. 3 min. Add the garlic and ginger and fry together for a few more minutes.

Mash the beans with a fork and stir in the sugar, sambal, soy sauce and 5-spice powder. Spoon the mixture through the minced meat and stir well. Fry everything for a further 5 minutes, stirring regularly. Transfer to a bowl and leave to cool.
Stuffing & steaming dough:
Release the dough from the bowl, flatten it slightly and divide the bapao dough into 10 equal balls. Roll these up, place on a floured board or baking tray and leave them to rise for another 10 minutes under a floured cloth.

Meanwhile, divide your filling into 10 portions, shape and squeeze them into balls and place them on a plate.

Cut out 10 squares of baking paper of approx. 7×7 cm. You will later place the filled bapao on these.

Dust your work surface with flour and press a ball of dough flat with your hand (1 cm thick) and then flatten it around the edges (0.5 cm thick). The idea is that the middle of your dough slice is thicker than the outer edges. By folding the dough around the filling, the bottom of the dough becomes as thick as the top and sides. Your dough circles will be about 7-8 cm across or the size of your palm. Place the dough on your hand and put a ball of filling in the middle. Fold the dough edges around it and pinch the dough together. Place the bapao on a piece of baking paper to prevent sticking. Continue until all your buns are filled.

Use a steam cooker or heat a pan with a layer of water in which you can put a steamer basket, or put a large bamboo steamer basket on a wok filled with a layer of water. Bring the water to the boil and place 3 to 6 bapao in it (depending on the size of your steamer basket). Make sure they do not touch each other, the dough will still rise during the steaming. Steam the buns for 10 minutes. If necessary, use a skewer or thermometer to check whether they are hot inside (core temperature 80 °C or hotter).
Notes
Tip: Prepare your filling before starting the dough or make your dough first and then prepare the filling during the proofing time of the dough (choice between two fillings). 
*bapao flour is very finely ground and bleached wheat flour with a low gluten content. Available in Chinese or Indonesian shops.
Nutrition
Serving:
85
g
Calories:
258.07
kcal
Carbohydrates:
34.82
g
Protein:
9.21
g
Fat:
9.52
g
Saturated Fat:
0.98
g
Trans Fat:
0.03
g
Sodium:
420.02
mg
Potassium:
207.9
mg
Fiber:
1.93
g
Sugar:
3.95
g
Vitamin A:
4.55
IU
Vitamin C:
0.94
mg
Calcium:
51.87
mg
Iron:
2.72
mg