Dat peulvruchten volwaardige vleesvervangers zijn blijkt uit het feit dat ze samen met vis, ei, zuivel, noten en vlees in dezelfde schijf van de vijf staan. Het voedingscentrum noemt peulvruchten zelfs een betere keuze dan vlees. Ze bevatten namelijk – in tegenstelling tot vlees – veel vezels en geen verzadigd vet. In een zuiver plantaardig dieet kun je peulvruchten echter niet 1 op 1 vervangen. Ze bevatten namelijk niet alle essentiële aminozuren (de bouwsteentjes van eiwitten die ons lichaam niet zelf kan maken en die we daarom via onze voeding binnen moeten krijgen). Voor het volledige plaatje moet je ze daarom combineren met noten en zaden. Ander punt van aandacht bij het eten van peulvruchten zijn lectines, stofjes waarmee planten zich beschermen tegen hun vijanden. Wetenschappers en internetgezondheidsgoeroes verschillen behoorlijk van mening over de schadelijke werking van lectines maar het kan geen kwaad peulvruchten goed te weken en goed te koken. Met andere woorden: eet geen rauwe peulvruchten.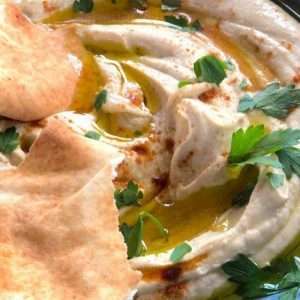 Hummus
Creamy hummus prepared the authentic way
Ingredients
250

g

dried chickpeas

or use cooked chickpeas from a tin, the weight doubles after soaking and cooking.

8

g

baking soda

2

cloves

garlic

80

ml

lemonjuice

250

g

raw tahina

1

tl

salt

100

ml

extra virgin olive oil
For garnish
fresh cilantro leaves

chili powder
Instructions
Soak the chickpeas for at least 6 hours, or overnight in plenty of cold water with a teaspoon of baking soda.

Cook the chickpeas in plenty of clean water with the rest of the baking soda. Drain the chickpeas and save some of the cooking water.

Puree the chickpeas with the garlic, lemon juice and tahina* for about 5 minutes until smooth. Then add a little of the cooking liquid each time until you reach the right thickness. You have to decide this yourself, because the thickness depends on your taste. We like our hummus reasonably thin, because it is than easy to dip it with bread.

Season the hummus with salt and, if necessary, extra lemon juice. Do not use olive oil in the hummus, it will make it grainy. The olive oil is added when serving.

Serve the hummus in a deep plate. Make a spiral in it with a spoon and pour good olive oil over it. Sprinkle with chili- or paprika powder and fresh coriander or some chopped parsley. Delicious with your DIY pitabread or Lebanese flatbread.
Notes
*Tahina:
N.B. Hummus with raw tahina is mild in flavour. But raw tahina is can be hard to come by. Tahina made from toasted sesame seeds can also be used. It makes the hummus taste slightly bitter, but still delicious. It is definitely worth looking for Lebanese or Israeli hummus.
I recently had a discussion about it with the owner of Eufraat en Tigris in the Javastraat in Amsterdam. They make all their hummus for their sandwiches with thin tahini from toasted sesame seeds. This does make the flavour a little more bitter.
Nutrition
Calories:
330.1
kcal
Carbohydrates:
21.3
g
Protein:
9.2
g
Fat:
24.8
g
Saturated Fat:
3.4
g
Polyunsaturated Fat:
7.5
g
Monounsaturated Fat:
12.6
g
Sodium:
469.9
mg
Potassium:
344.3
mg
Fiber:
5.6
g
Sugar:
2.9
g
Vitamin A:
34
IU
Vitamin C:
5.3
mg
Calcium:
63.3
mg
Iron:
2.7
mg